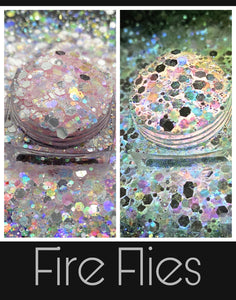 Radioactive Glitter
Fire Flies
Regular price
$9.50
$0.00
Unit price
per
Fire Flies is a light pink chunky glow to white glitter.  Please look at the pictures closely to determine the color you are needing.  I try my best to describe the colors.   Comes in a 2oz by weight baggie.
 The glow glitter is activated by UV light or natural FULL sunlight.  It will not FULLY charge with a regular light. 
Some UV protection epoxies might make it difficult to glow or dim the glow depending on amount of coats used.  Check with your epoxy manufacturer. 
Please feel free to join & share your creations from our products on our Facebook page at https://www.facebook.com/groups/radioactive.glitter1
---